Caring for our people
Mooigezicht Estates recognises its responsibility to the people who work for the company and their families and implements a range of social and development benefits. As the staff members are one of the company's most valuable resources, it is the company's heartfelt commitment to care for the needs of staff members and their families.
These include:
Housing
There are approximately 250 houses on Mooigezicht Estates and the company thus provides housing for around 250 families living on the estate and working amongst the vineyards. The houses are modern and fully equipped. They are also supplied with free clean water and electricity and are located in safe, rural settings. In order to accommodate staff Mooigezicht Estates continuously invests in housing infrastructure. This includes the construction of new homes and the ongoing maintenance of existing houses.
Child care facilities
Mooigezicht Estates has ten fully equipped crèches incorporating pre-school centres. These facilities are run by trained child care and early learning educational staff. The youngsters receive two meals daily and have playing apparatus and toys for their age. The children are also doing Bible Study and are taught Christian ethics. The crèche staff members help the parents with parenting skills in an effort to ensure that children are adequately prepared for primary school.
Estate Clinics
The South African State Health system is overburdened and people often wait many hours before receiving treatment and chronic medication at state hospitals or clinics.
To minimize time away from work  and assist our pensioners Mooigezicht has a satellite clinic on the estate. The medication is collected from the local state clinic and dispensed to more than 70 people at the estate clinic facility by the estate's qualified health worker with the help of a nursing sister from the local State Clinic. We provide most elements of primary health care including immunizations, birth control and infant care, thus significantly reducing the need for our staff to visit the local state clinic.
Schools
Scholars living on the estate attend local schools and the company provides transport to and from school for scholars that do not live near established government bus routes. Trained staff members assist school children with after school care, helping them with their homework and bible study.
Library
Mooigezicht Estates has its own library with more than 1 000 books (fiction and non-fiction) in three official South African languages. The municipal library service provides the full time librarian and the library is used by school children and adults in the community. This facility allows scholars to find research information for school projects. They also have access to the internet on the two computers in the library and are taught basic computer skills. The library also has a copy machine.
Sport and recreation
Sport plays an important part in the social lives of those living in the farming community. There are both soccer and netball fields on the grounds of Mooigezicht Estates. The company offers coaching in these sports and also sponsors staff teams. The fields and clubhouse facilities are also utilised by schools and neighbouring farms. Participation in choir performances is a popular recreation activity supported by the company. This encourages spiritual expression and also provides a platform for cultural expression by the various ethnic groups represented on the staff.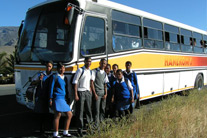 Transport
Free transport is provided to all employees and their children throughout the week and weekends. This includes commuting from home to work as well as to town for shopping, medical services, recreation, meetings in the community and church services.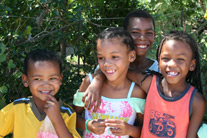 Bursaries for tertiary studies
Grants and bursaries are available for higher education to the children of staff. A number of students have taken advantage of this opportunity and have been successful graduates.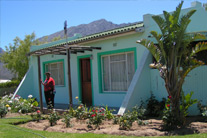 Housing for retired staff members
Mooigezicht Estates has a number of retired former employees that are enjoying a life occupancy right to the homes that they lived in on the various production units during their period of service.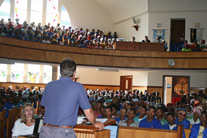 Spiritual Support
Mooigezicht Estates holds regular enrichment meetings attended by both management and staff. Religious and spiritual instruction is offered to children of farm workers within the various child and youth programmes.