Mooigezicht Estates sponsors the tertiary education of two local community students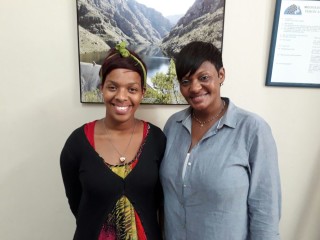 Above: Angelique (left) is pictured with her mom Petro Swarts.
At the start of 2017 the management of Mooigezicht Estates undertook to sponsor the tertiary education studies of the top matriculant achiever for the year per school from two local high schools. These two students are studying Teaching and Medicine respectively and have now completed their first year.
The student studying teaching is Angelique Swarts and she is studying at the Wellington campus of Cape Town University of Technology. "My particular field of interest is Language, both English and Afrikaans and I discovered this when I reached high school," says Angelique. "My dream is to not just teach but to foster a love for learning within the community. I see myself becoming a successful teacher within our community, helping pupils to further their education and achieve success with their careers. I believe that a significant part of achieving success comes from those who support you. We can achieve success alone but encouragement and support certainly help. The support that Mooigezicht Estates has provided during this year has been invaluable and I wish to thank the directors of Mooigezicht Estates for sponsoring my studies."